Health and Wellness Today: Bridging Perishables and Center Store to Save Shoppers
45 minutes
Health and wellness has become one of the comprehensive platforms for growth for retailers across the country. Consumers are spending more and more on healthcare each year, and also spending more on those products in-store that enable them to live healthier lives. The critical question for retailers and manufacturers is how to capitalize on the health and wellness opportunity today.

In this session, Elley Symmes, Analyst with Kantar Retail, will provide an overview of key strategies that U.S. retailers are using to connect with shoppers to develop a credible partnership in health and wellness, from shelf to services. She will explore what shoppers look for as they work to live healthier lives, from diet, exercise, and more and what they expect from retailers and manufacturers in enabling them to live better.

Finally, this session will discuss approaches that retailers and manufacturers can use to provide a comprehensive health and wellness solution to shoppers that extends beyond pharmacy and perishables, capitalizing on center-store categories to simplify what has become an incredibly complex concept for shoppers to understand.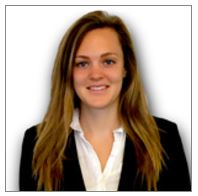 Elley Symmes, Analyst
Kantar Retail