Emerging, Challenger or Leading Brand? ECRM Has a Program for You
3/4/2019
---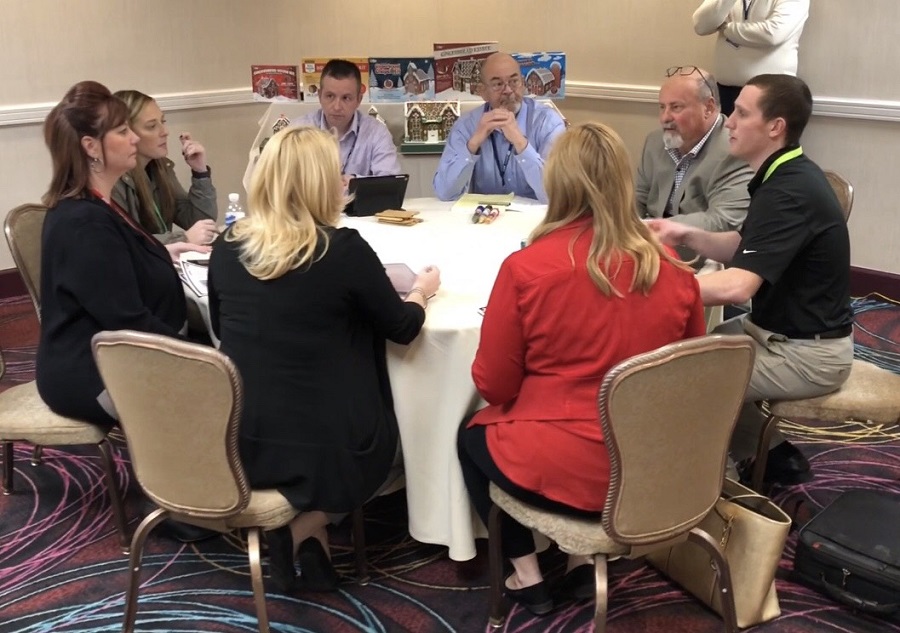 Suppliers considering participation in one of ECRM's category-specific programs typically have three different meeting packages available for them at our sessions, including the Discovery Hub, Innovation Pipeline and Planning Session. While each of these packages is tailored to specific types of suppliers at different stages of their lifecycle, it's not set in stone, and there may be some specific reasons to choose one over the other.
To help shed some light on which packages may be best for you, I sat with ECRM VP of Channel Development - Grocery Tyler Barich to review the details of each – including videos that show you real life examples of each type of meeting package from a recent session.
And – while you really can't compare ECRM programs to traditional trade shows – Tyler also addresses common supplier questions about the pricing of ECRM sessions, and the high-touch, all-includive nature of our programs.
ECRM: Can you give us an overview of the different types of meeting packages?
Barich: We offer three all-inclusive packages for participation, and one of the questions I get most often from suppliers is 'Which package is right for me?' Our process is pretty unique, and it's quite a bit different from the traditional trade show or expo where you're paying for a booth space and then you have all your add ons.
Our entry package is called the Discovery Hub. We refer to that as our emerging brands program, as its really designed for first-time attendees, emerging brands that are looking to get discovered, build up their distribution and get product feedback from buyers.
This option includes 10 minute pre scheduled appointments with category buyers. The meetings are typically held in one of the hotel ballrooms, and include a round meeting table with chairs, and one or two display tables, if needed. All of our options include hotel and meals which is nice because that's something we take care, you don't need to book it on your own, and it includes great networking opportunities for suppliers to be able to mingle with buyers outside of their pre scheduled appointments. This package includes one person and you can certainly add extra attendees if needed.
ECRM: So the typical supplier that opts for the Discovery Hub, might be someone who for example is doing well on Amazon and is maybe in some retail stores, but may not yet have distribution in larger retailers?
Barich: That's typically what we see. Amazon is popular for a lot of the emerging brands, they are also selling through their websites, and some of them have established distribution more so on a regional level, but they're really at that next stage where they're looking to branch out, meet with buyers across other channels, and ready to scale up and start to have more of a national presence. Many first-time ECRM attendees choose this option.
ECRM: So next level is the Innovation Pipeline. Can you give us details on that package?
Barich: The Innovation Pipeline is really designed for challenger brands, suppliers that already have some form of established distribution. It could be on a regional level most likely and at this point they're really looking to build and grow their presence within the national retail space.
For example, in the grocery category, we'll have suppliers that have established distribution in the natural foods space, and they're looking to branch out and meet with more of your mainstream grocers. Or maybe they're looking to expand into the drug channel, or even convenience for that matter. So, that package is designed for those brands that are looking to jump their distribution to the next level.

The Innovation Pipeline package includes a 10 by 10 foot pipe and drape meeting space. So, it's a little bit more space, a little bit more privacy then the Discovery Hub.
It also includes participation for one attendee with hotel accommodations and meals. So, that option really works well for attendees that have been to an ECRM session in the past and now they understand how it operates.
ECRM: Finally, there are the 20-minute Planning Sessions.
Barich: Our Planning Session option is really reserved for what we refer to as leading brands. That's going to be your suppliers that already have that really good foundation of distribution, and are really looking to build those strategic relationships with the buyers. Also, as with those in the Innovation Pipeline, they're looking to expand into new channels of distribution.
Commonly what we see is suppliers that attend in that level they already have distribution across multiple channels. So for example if they are a natural product company they may be doing business with a lot of the natural grocers, Walmart, or Target, and are looking to branch into the drug channel or convenience, or even foodservice. The planning sessions are perfect for these suppliers because at that level they need every bit of those 20 minutes.
ECRM: They have more in-depth conversations?
Barich: Absolutely. They may have multiple SKUs or they're launching new items so they're able to capture a lot of the retailers they're currently doing business with, while at the same time see a few others that maybe they're not with. For them, that meeting space works really well. It's almost like buyers are walking into their office because it's a private, closed-door meeting space.
So, in addition to the 20 minute pre scheduled appointment, you have the private meeting space, which is typically a guest room converted into a meeting room. It comes with two six by two foot tables on which they can display their products, plus a large round table for the meetings.
Of course, with any of our packages we can provide suppliers with additional tables or chairs, or easels, even extra lighting if necessary. We try to provide you whatever you might need to enhance your meetings – all they have to bring is their own products, of course.
ECRM: So with the three different packages, it's not mandatory that an emerging brand choose the Discovery Hub. If they happen to have a variety of products and would like the additional time that comes with the planning suite, they can choose that option, correct?
Barich: Absolutely. Our packages are designed to provide suppliers whatever amount of time they might need for their appointments as well as how much space they need. So, those are other questions I might ask a supplier is how many items they're looking to present, is the table top going to be adequate, or if they have a large assortment maybe they need to automatically move up to the booth space. And the other question I ask is, "How much time do you need to present?" I think in many cases 10 minutes is perfect. It's enough time to determine is there a level of interest and what's the next step for follow up. But again, if it's a supplier that has a large product line or they're launching new items, they might very well need that full 20 minutes. So again, our packages are designed really to put the supplier in the best position to be able to execute on their meetings, to provide them adequate meeting space and an adequate amount of time to be able to present.
ECRM: Do these needs change over time?
Barich: That's right. It's not uncommon for a supplier to start at the Discovery Hub level or the Innovation Pipeline and find that they're ready within the next year or two to move up to the Planning Session.
ECRM: Let's talk about the investment. I know some suppliers do ask you about the level of investments and they always compare it to other trade shows. But this is not an apples-to-apples comparison.
Barich: Absolutely 100 percent right. One of the biggest comments I get is that ECRM is expensive compared to other trade shows, yet if you do the math, it's quite the opposite. Of course, we only hear that from suppliers that have never participated in an ECRM program, but rather have only experienced traditional trade shows. But at your national trade shows, the pricing is a la carte. So, typically you're paying for an eight by ten, or a ten by ten, or a ten by twenty booth space. So, whereas you might pay six, seven thousand dollars depending on which trade show, all you get is that trade show space, that space on the floor. From there, you're shipping a booth, your shipping pallets of products for giveaways, you're spending a lot of money on extra things that you normally wouldn't consider, such as tables, chairs, power, internet access.
'You're not paying for a meeting space; you're paying for the opportunity to have appointments with buyers, and all of the services we deliver around those appointments to make them a success.'
ECRM: Plus the food and hotel.
Barich: Absolutely, whereas with our sessions again it's all inclusive. So, you're not paying for a meeting space, you're paying for the opportunity to have appointments with buyers, and all of the services we deliver around those appointments to make them a success. So, the only thing you need to worry about that's not included in our pricing is getting yourself to and from the hotel and shipping in your product samples, everything else is taken care of. So, whenever a supplier mentions that to me it gives me the opportunity to explain what's involved in our packages. What I'll typically recommend is for them to let me run a price comparison against their total investment in participating at one of those national trade shows.
So, the bottom line is any supplier can look at the list of buyers that we're bringing in and you can see that on our website for most sessions and compare not how much it would cost versus a trade show. Compare how much it would cost to fly in and meet with each of these buyers directly and keep in mind at ECRM you're going to do that over the course of two or three days. So time is another factor that has to be included. Plus there's another element that is all of the services that our account management team provides within a program in helping suppliers to prepare, being on hand for them at the session, and then following up afterwards. (Click here to see how ECRM Account Managers work with retailers and suppliers).
ECRM: You definitely don't get that in a trade show.
Barich: You can't compare our level of service to what you get at a trade show. At a trade show, they just sign up and show up. With ECRM, there's an immense amount of planning that goes into it and our account managers are there to walk you through every step of the process from completing your company profile to walking you through your appointment list, logistics, anything and everything that you would need to know as a supplier to prepare for your appointments. And then even after the session, our account managers walk you through how to access the follow up site, and the notes that you took during your meetings, as well as access the shared buyers notes. So again, that's something you just don't get at those big trade shows whereas at ECRM it's all about customer service.
---
Full video interview with ECRM VP of Channel Development - Grocery Tyler Barich
---