Pivoting for Success: How One Startup Food Brand Drove Rapid Growth by Being Quick on its
5/30/2023
---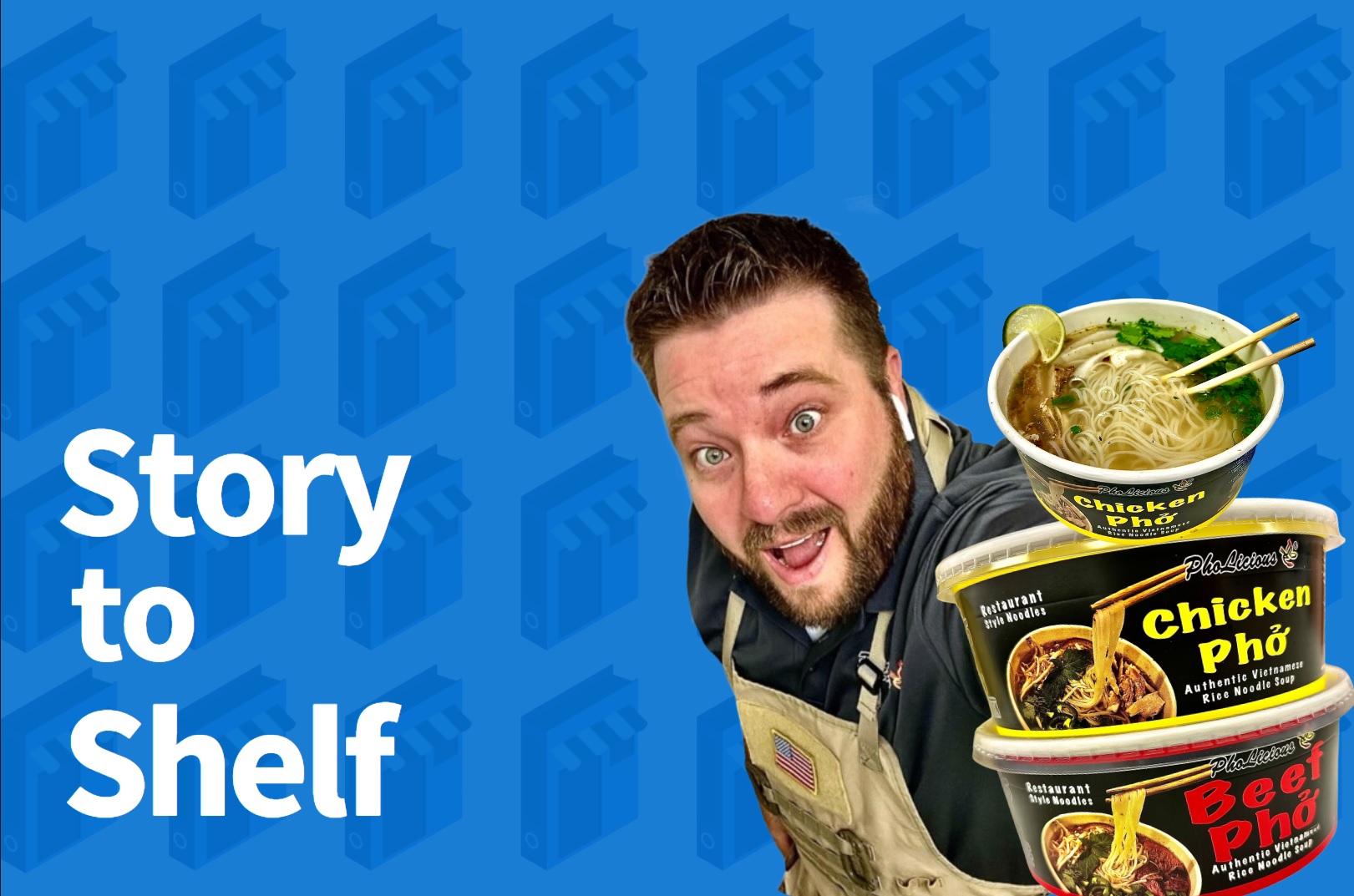 The pivot.
It's a term coined by Eric Ries in his bestselling book, The Lean Startup, and has been part of the entrepreneurial dialogue ever since. It refers to the ability to abruptly and quickly change the direction of your business when the need arises. For CPG startups, the ability to pivot is essential, as they regularly face rapidly-shifting consumer trends, market and supply chain fluctuations and the varying demands of buyers.
Joseph Trousdale, Founder and COO of Houston, Texas-based food brand PhoLicious, has had a crash course in pivoting over the past few years, and it's his ability to adapt and change at a lightning pace – both in life and business – that has led to his astonishing success as a new entrepreneur. PhoLicious makes authentic Vietnamese pho that can be prepared in minutes at home and has only been in existence for two years, yet has already landed deals with Walmart, Sam's Club, QVC and Sysco.
"Being able to think on your feet and solve issues that come up without getting discouraged is essential in this business," says Trousdale. "As entrepreneurs, we're always going to have roadblocks, but you have to have that jackhammer in your back pocket, find a way to break through those roadblocks and keep going."
In my recent interview with Trousdale, he took me through some of the pivots he's had to make over the past few years, and how – with a little help from RangeMe and ECRM – each shift in direction has led to growth.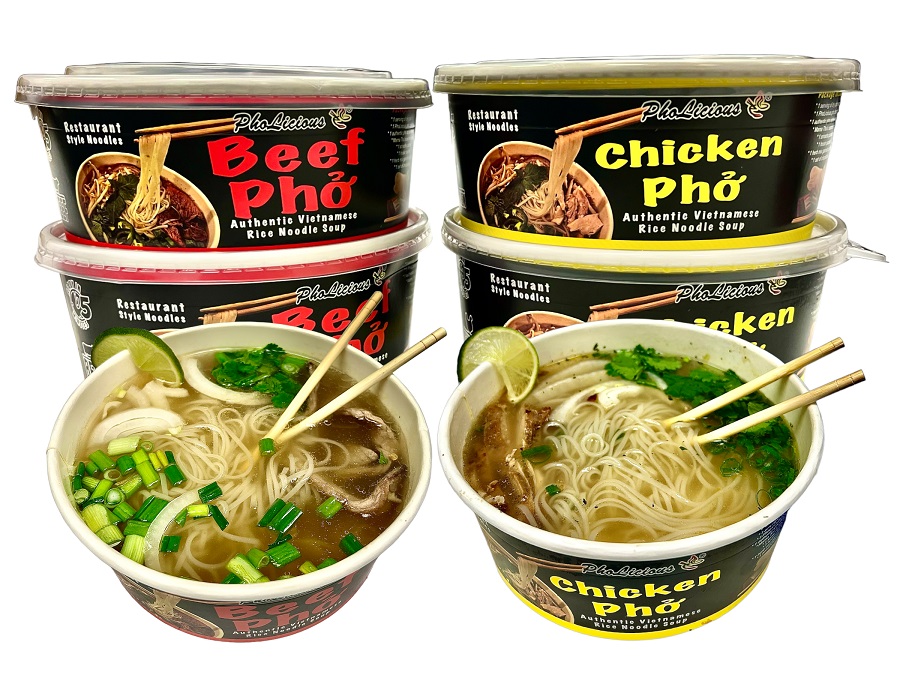 Pivot 1: From hotel manager to food entrepreneur
How PhoLicious came to be is an interesting story in itself. For most of his career, Trousdale has managed hotels, while his wife Anh was an emergency room nurse. Her parents emigrated to the U.S. from Vietnam in the 1980s and for a time they operated a pho restaurant using a family recipe that had been handed down for generations.
During the pandemic, all the local pho restaurants the Trousdales loved visiting were closed down. "It created a void for authentic pho," says Trousdale. And with my wife being an emergency room nurse and me a hotel manager, we didn't have the time to make it ourselves. That's when my wife decided to team up with her mother to create an authentic instant pho that busy people like us could easily make and enjoy at home."
After much trial and error, they found the perfect ingredients and recipe that would make this instant pho a reality for consumers, and in May 2021 the company – and its namesake – were born, and the Trousdale's pivot to food entrepreneurs was complete.
PhoLicious makes Vietnamese pho in beef, chicken and vegetarian flavors that can be prepared in just 10 minutes, ideal for pho lovers who don't have the time it takes to make it from-scratch (which typically takes 10+ hours). Each bowl contains the complete ingredients needed, including specially sourced rice noodles that don't get soggy in the microwave, along with savory spices and condiments.
The Trousdales initially worked out of their home and sold products on Amazon and from the brand's website, and once they had some momentum, expanded into a 1,700-square-foot production facility. They signed up on RangeMe with a Premium subscription, which, in addition to greater exposure to brands, also enables PhoLicious to submit products directly to retailers and participate in special retailer sourcing campaigns and summits. Their first big win came from QVC's The Big Find.
Since 2020, RangeMe has helped QVC find the most innovative new products during The Big Find. Brands and entrepreneurs across several categories submit their products via RangeMe and those that are selected are invited to pitch their products virtually to a panel of QVC judges. PhoLicious was one of the winners and its products aired across QVC's media platforms throughout 2022.
Pivot 2: Joseph becomes a TikTok influencer
RangeMe also works with Walmart to help streamline the submission process for Walmart Open Call – part of the retailer's ongoing commitment to getting more U.S.-manufactured products on its shelves and online for consumers. Trousdale's RangeMe submission resulted in a trip to Bentonville, Ark. to pitch the retailer's buyers in-person. The result was a 300-store deal with Walmart and a 50-store deal with Sam's Club, and Trousdale and his wife couldn't be happier.
However, while Walmart was a done deal, a change in buyers delayed the start of the launch by six months. Normally this wouldn't have been an issue, but Trousdale had just signed a new lease on a 10,000-square-foot facility in anticipation of the extra business. "We weren't sure how we were going to make it until the launch," he says. "And we couldn't go and get a bank loan because we were such a new company. So we had to shift gears and get our direct-to-consumer business going like crazy to hold us over."
What do you do when you need to boost DTC sales? Become a TikTok influencer, of course! Donning a hair and beard net, Trousdale jumped onto social media, and became a Pho influencer, making live TikTok streams of himself in the production room putting bowls together by hand while fielding questions from his audience. "Our Amazon sales exploded with that, and we were able to get by until we were able to move forward with Walmart."
Pivot 3: Adding a line of foodservice offerings to his product lineup
When Trousdale received an invite to apply for the ECRM Sysco Supplier Diversity Review last year, he was a bit hesitant. "They serve restaurants," he says. "How would our CPG product work with them? But I decided to put my trust in the folks at ECRM and see what happens."
He went into the meeting with an open mind, and during the discussion they asked if he could create a foodservice pack that would enable them to prepare their pho in bulk. After a bit of tweaking the recipe, Trousdale developed a broth kit that would allow a restaurant to create a 100-ounce pot of broth that can work with rice noodles from Sysco so that restaurants could add pho to their meus.
This is a common occurrence at ECRM sessions. As the meetings are highly curated, ECRM's team members evaluate buyer's category needs and objectives with supplier's products and capabilities and have a keen sense of where unanticipated opportunities may lie between buyers and brands. This often results in suppliers expanding into new areas or channels of business they had never previously considered.
"I'm so glad I took the chance and met with them," says Trousdale. We would have never thought of a foodservice option, but now because of that one ECRM meeting we have a new offering. So now we will be in restaurants in addition to Walmart, Sam's Club and on QVC, all within a 12-month period from connections made with RangeMe and ECRM. It's been surreal to say the least."
Trousdale's best practice recommendations for RangeMe and ECRM
It's pretty unusual for a brand to have this much success right out of the gate, and according to Trousdale, it wouldn't have happened without RangeMe and ECRM.
"RangeMe has been a big help in connecting us with suppliers I would have never normally had the opportunity to connect with as a new company," he says. "Before we started with RangeMe and ECRM, we kept running into a common pain point in our industry. It was just too difficult to get a new brand into a position where we could be discovered by larger retailers. With both platforms, we no longer just had to rely on luck or who you know."
To maximize the impact of his brand on RangeMe, he upgraded to a Premium subscription and became RangeMe Verified™, which helps boost his visibility and lets retailers know that his brand is ready to do business. He also put a lot of time and effort into the content of his profile.
"Buyers can't try out your product through the computer, so you have to have great images and a powerful description on your profile," says Trousdale. "It really has to grab the buyer's attention, and can't be too lengthy. You have 10 to 15 seconds to grab their attention, or they will scroll to the next product. RangeMe provides some great guidelines and content on how to optimize your profile's effectiveness."
Trousdale's most effective tool on RangeMe, and his personal favorite, are the category reviews and submissions, which are the features that led to his major deals. Premium subscribers can submit a product directly to each retailer once per year, and have access to category review alerts, which notify a brand when a participating retailer is gearing up to review their category.
"I learned from the Category Review section of RangeMe that retail buyers review my category at specific times of the year, and many of them indicate the timing in this section," says Trousdale. "If you follow the category review guidelines for these retailers it will be more likely to get their attention because it's what they are specifically looking for, and that's half the battle."
He recommends that brands check out the category reviews, submit at the right times to the right buyers, and then you can go crazy and submit to those retailers who don't indicate their category reviews (though he says you might want to reach out directly to the retailer to try and learn their review timing, as well). Also, submit to all the retailer sourcing campaigns and summits that are relevant for your brand, as – like with the category reviews – during these times buyers are actively searching for products in your category."
When it comes to ECRM sessions, Trousdale says that it's important to follow the guidance of the Client Success team, and when you meet with buyers,try to establish a meaningful connection with them. "If you don't have a connection with a buyer, it doesn't matter how good your product is, they've already zoned out," he says.
With more sessions and retailer submissions planned in the coming months, Trousdale is looking forward to many more buyer discussions. And who knows? Perhaps these will lead to more pivots into more new areas to grow his business!
---
Full video interview with Joseph Trousdale
---