JAECI, Clean Cubes LLC win ECRM Buyers Choice Awards
5/14/2018
---
JAECI won the ECRM Buyers Choice Award for its Spirit Animal statement jewelry during ECRM's recent Home & Gift EPPS. Clean Cubes LLC was a finalist for its Clean Cube disposable trash and recycling bins.
The two companies were selected from dozens of entries in the award program, samples of which were displayed in the ECRM hospitality area during the EPPS meetings. Buyers cast their votes based on product innovation and packaging.
Downtown Las Vegas-based JAECI Jewelry reflects the style of their neighborhood in their stainless-steel pieces with edgy personal mantras and mindful affirmations for living one's best life. Their goals include Journey, Aim, Experience, Create and Inspire. JAECI's Spirit Animal statement jewelry is inspired from a 4-question version of the famous Myers-Briggs psychology test. Taking the test allows one to identify with their inner fierceness and absolute oneness with Mother Nature's superstars. From there, one can choose if they wish to wear their animal spirit around their neck or on their wrist.
The bracelets and necklaces are offered in stainless steel or 14k gold plated stainless steel. The pieces will not irritate even the most sensitive skin types. The jewelry does not tarnish or wear away with use. Every Spirit Animal statement jewelry piece are lead and nickel-free making them trendy, affordable, and wearable for all.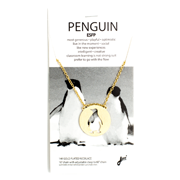 Finalist Clean Cubes, LLC provides an easy fix to a typically messy situation. This company developed their Clean Cube products as an ecofriendly trash solution. Created from 50% recycled paper, the Clean Cube is composed of a plastic trash liner adhered to a paper bin. These products provide additional recycling or trash space whenever or wherever one may need. Whether it's a party, picnic, camping, or a boat, Clean Cubes offer instant trash or recycling bins.
Often recycling bins get sticky and smelly. Clean Cubes aim to make recycling an easier and more sanitary option for trash removal. The ease of popping open one of these cubes allows for convenient trash disposal no matter the location. Patented technology has made Clean Cubes the ultimate solution for keeping areas clean and free of mess.
JAECI and Clean Cubes, LLC are two examples of suppliers developing innovative products that help retailers build unique assortments that differentiate their stores in the market. Congratulations to these winners of the Buyers Choice Awards!