Fun Express LLC, Virginia Toy and Novelty Company win ECRM Buyers Choice Awards
5/14/2018
---
Fun Express, LLC won the ECRM Buyers Choice Award for its Cinch Grips during ECRM's recent Toy EPPS. Virginia Toy and Novelty Company was a finalist for its Voomerang.
The two companies were selected from dozens of entries in the award program, samples of which were displayed in the ECRM hospitality area during the EPPS meetings. Buyers cast their votes based on product innovation and packaging.
Fun Express, LLC, a wholesale/B2B supplier of Oriental Trading Company, is a leading supplier of consumer-packaged toys, novelties, party supplies, and holiday/seasonal goods. At the Toy EPPS, they introduced their Cinch Grips as the newest form of the Pop Socket. The versatile tool adheres to the back of your cell phone as an extra protectant grip. It is thin, lays flat against the phone, and does not get hung up on pockets. With four different settings, the Cinch Grip can fit any size finger and won't fall out of your hand.
Fun Express, LLC, the supplier who offers over 40,000 products, has been servicing businesses for over 20 years. The Cinch Grip proves that when it comes to fun, they're all business! The material of the Cinch Grip allows for the flexibility on the use that it provides. It can even be manipulated to fit one's needs with numerous uses, such as becoming a mini stand for both vertical and horizontal viewing.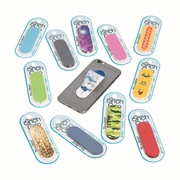 Finalist Virginia Toy and Novelty Company creates and designs new gift, toy, and novelty products that people love. Launched at the Toy EPPS, The Voomerang won first place for the simple fun it provides. The patent throwing toy is better than a boomerang! A quick flick of the wrist makes the oblong shaped flying machine circle up out and return within seconds.
Virginia Toy and Novelty Company was founded in 1988 with the ambition to create fun novelty toys to the world. The Voomerang had made their dreams a reality. Creating new games with friends is easy with this summer 2018 toy. Even with practice, one can fly two or three Voomerangs at a time. Visit The Voomerang site to see the endless options of fun.
Fun Express, LLC and Virginia Toy and Novelty Company are examples of suppliers with innovative products that provide retailers with unique options to differentiate their assortments. Congratulations to these winners of the Buyers Choice Awards!