Group EcoBox OÜ, Coucour Win ECRM European Pet Buyers Choice Awards
10/9/2019
---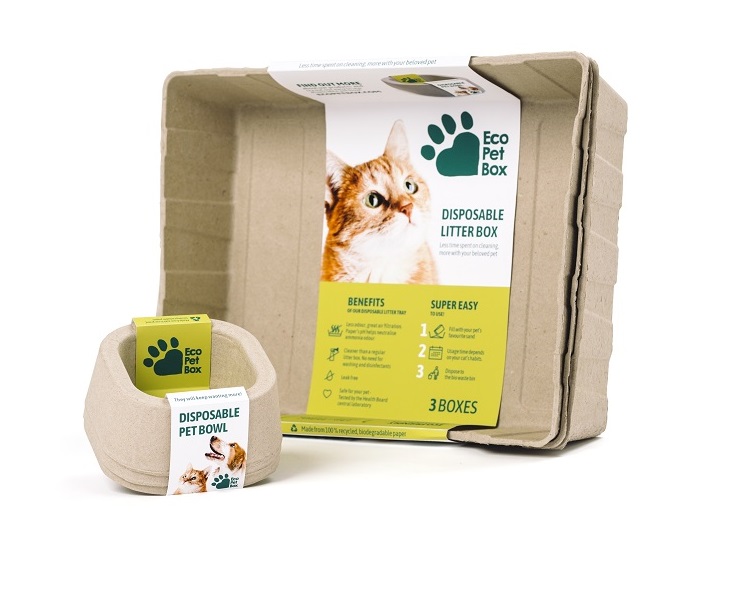 When it comes to the pet category, product innovation is key to maintaining growth, and any products that can help make pets happy and healthy – or make the pet owner's life a little easier – will help drive sales. The two winners of the Buyers Choice Awards at ECRM's European Pet session held last month in Warsaw, Poland definitely address these needs.
Group EcoBox OÜ won the 1st Place Buyers Choice Award for its EcoPetBox disposable litter trays and food/drink bowls, and Coucour was a finalist for its Himalayan Dog Chews. Both winners were selected from dozens of entries, whose products were on display in the hospitality area during the session. Buyers cast their votes based on product innovation and packaging. And while they had a lot of great products to choose from, these were the two standouts.
Estonia-based Group EcoBox OÜ offers one stop sustainable packaging solutions for various industries, and prides itself on being hands-on with its customers during the development process.

EcoPetBox disposable litter trays and food/drink bowls are made from recycled biodegradable materials, to offer pet lovers maximum convenience without harming the environment. The disposable litter tray is suitable to use in all conditions and to fill with all types of pet litter. They can be re-used and then composted, burned or disposed of along with the litter. (Litter trays can be re-used up to three times and bowls for drink can be re-used even more.) Both products are lightweight and perfect for trips.
Coucour (which means "dog" in Nepalese) was founded by Robert Huygh, who fell in love with Nepal three decades ago and even summited Everest in 2004. It manufactures private label cheese bones based on a traditional Himalayan recipe in an IFS/ISO factory in Belgium.
The Himalayan Dog Chew is a 100 percent natural and free of artificial preservatives. It's a long-lasting milk chew which contains over 60 percent proteins. The milk used for the bone is transformed into a low lactose cheese which is hardened for at least three months. While humans can't detect the scent, dogs love it, according to the company. It also helps reduce plaque and tartar build up in the dog's teeth.
Congratulations to both winners!