Identifying, Addressing & Overcoming Key Challenges Affecting Contract Services
9/6/2019
---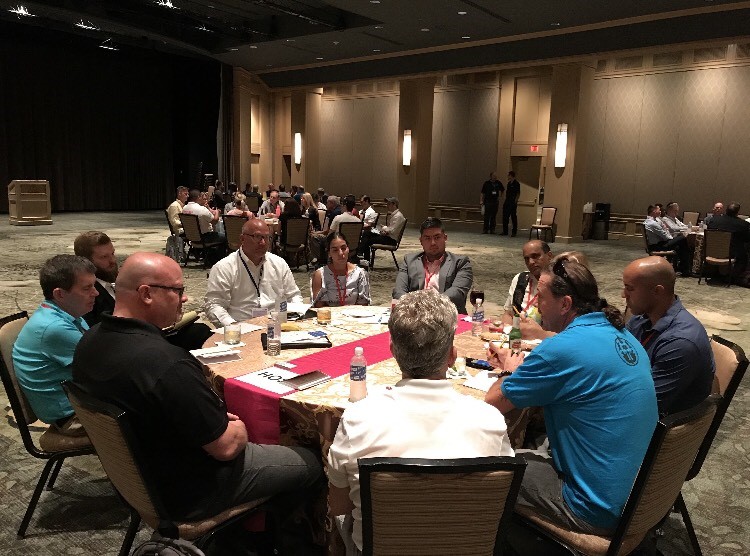 ECRM's Contract Manufacturing programs encompassed three category-specific sessions covering prescription pharmaceuticals, supplement nutritionals and OTC products and featured our Thought Interaction Pod roundtable discussions, in which buyers and suppliers across several of these sessions gathered for informal conversations on several topics relevant to the contract manufacturing industry.
For those of you not familiar with ECRM's Thought Interaction Pod programs, here's how they work: We set up several tables in a ballroom, with each table representing a topic related to the session -- in this case, contract manufacturing. An attendee serves as a moderator for each table. Participants select a table on a first-come, first-serve basis, and have an informal conversation on the topic for 30 minutes, after which we break for a minute, everyone chooses another table, and then has one more discussion on the second table topic. An ECRM team member then conducts a video interview with each moderator to discuss key takeaways from their respective roundtables.
Following are the video interviews conducted by Scott Porter, ECRM's Senior Director of Channel Development - Pharmacy & Medical Markets.
---
Table Topic 1: Secondary Suppliers - Balancing long term relationships and business continuity
Moderator: Poly Bogris, Senior Director - Quality & Regulatory Affairs at Alva-Amco Pharmacal

It's important for manufacturers to engage with secondary suppliers as a backup to ensure business continuity. In this video, Poly discusses why it's necessary to have a secondary supplier; how to engage a new secondary supplier; and how to maintain the balance between the primary and secondary supplier relationships.
Poly Bogris, Alva-Amco Pharmacal
---
Table Topic 2: Topic: Preparing for Your CDMO Selection Process
Moderator: Jeff Speicher, General Manager Commercial at Avema Contract Services - a Division of PL Developments

Avema Contract Services' Jeffrey Speicher discusses the ins and outs of the contract development manufacturing organization (CDMO) selection process, including how to determine if a prospective CDMO has the right "pedigree" for a particular project.
Jeff Speicher, Avema Contract Services
---
Table Topic 3: Hemp's Role in the Growth of Botanical Supplements: The Importance of Sourcing
Moderator: Roger Hayes, Vice President of Business Development at Green Remedy, Inc.

Green Remedy's Roger Hayes discusses hemp's role in the growth of botanical supplements, and the importance of vetting suppliers when sourcing to ensure quality, consistency and safety.
Roger Hayes, Green Remedy
---
Table Topic 4: Serialization - Strategies for Handling Product Identifier Verification Requests & Investigations in 2020
Moderator: J.P. Griffin, Supplier Manager - Third Party Manufacturing at Shionogi, Inc.

Shionogi Inc.'s JP Griffin discusses serialization and strategies for handling product identifier verification requests and investigations, which are required for companies distributing pharmaceutical drug products in order to generate tracking data at all points in the supply chain.
J.P. Griffin, Shionogi, Inc.
---
Table Topic 5: In the Millennial Times, What is the Market Looking For?
Moderator: Edgar Arrieta, Business Development Manager, Unipharma, LLC

Edgar Arrieta discuss the Millennial market as it relates to pharmaceuticals and how it impacts product development and packaging. Millennials want easy, convenient and sustainable packaging for products, and product development and packaging must address these demands.
Edgar Arrieta, Unipharma, LLC
---