Where Has the Toys 'R' Us Shopper Gone?
5/15/2019
---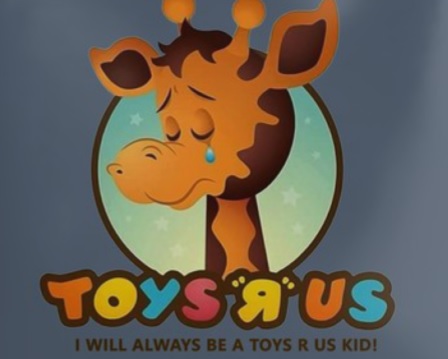 With last year's demise of Toys "R" Us, a big question among retailers and suppliers in the toy category is, "Where have all of these toy shoppers gone?" This is a question that was answered by Marlea Clark, EVP of Marketing & Insights for marketing and media agency Stella Rising, who spoke on the topic at ECRM's Toy EPPS last month.
The discussion was based on custom research conducted by Stella Rising using it's Glimmer Community panel, which is composed of approximately 22,000 consumers. For the study, the company surveyed 1,000 panel members across the U.S. who previously shopped at Toys "R" Us about their feelings on toys, and where and how they are buying them now that the retailer is gone.
ECRM VP of Content Joseph Tarnowski discussed some key takeaways from this research with Marlea during a recent visit to Stella Rising headquarters in New York City. (See below for the full video interview.)
ECRM: What were the panelists' overall feelings about the toy category?
Clark: Women across ages and demos really like toys. It's a fun category, as you might expect. It's something that has good feelings around it. They're really happy shopping this category. It doesn't fill them with despair like shopping some other categories can.
ECRM: Does it look like they're increasing the amount of toys they're buying?
Clark: Yes. Actually, it's a great time to be in the industry. It's not astronomical growth, but nice, steady growth. We see it growing about 25 percent over the next four years, until 2023.
ECRM: Last year was not a nice time for Toys R Us, though.
Clark: The panelists we surveyed really miss Toys "R" Us. Of our panel, 96 percent of the women we spoke with were Toys "R" Us shoppers. However, Toys "R" Us really was hit by a few different issues. First of all, I think we all know retail in general is challenged. It can be very exciting and rewarding, but it's definitely challenged. Toys "R" Us had very big stores, and a big footprint, which was difficult to maintain.
And because different factors prevented Toys "R" Us from modernizing and creating new, fresh experiences in the stores, it had a lot of debt. These factors, combined with some changes -- particularly shoppers buying more electronic-type toys and games that you don't typically purchase at a toy store -- resulted in a few difficult holiday seasons. All those things sort of combined in a perfect storm in 2018 to push the retailer into bankruptcy and leave a hole in the industry of more than $11 billion.
ECRM: Who's filling that hole?
Clark: Interestingly, I think a lot of people would right away say they went to Amazon. But among the women that we surveyed, close to 50 percent actually shop for toys at Walmart now. That's where they've gone, primarily. And that makes a lot of sense, as overall it is a price sensitive category.
And women are already shopping at Walmart, so as long as they're there, it's convenient. Walmart has, of course, upped its assortment in response. So, we definitely saw Walmart getting the lion's share.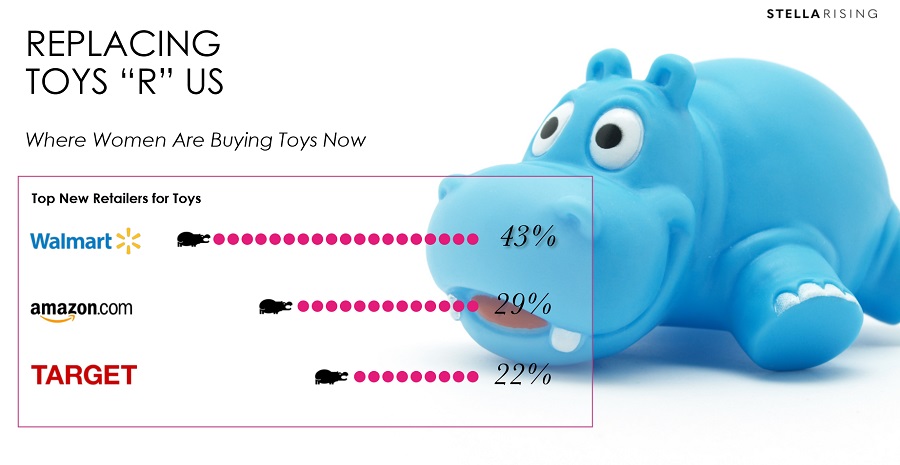 ECRM: Do you know if they were talking about Walmart online as well?
Clark: The results include both Walmart stores and Walmart.com. Walmart stores did still win with its massive physical footprint. Of the dot-coms, Amazon is bigger. But Walmart as a whole is getting this business. But Amazon is still Amazon. And in toys, women find that Amazon is convenient, and they are already on it. So, adding those toys to that order, it's very easy and Amazon is upping their game to be as competitive as possible, as they do with everything.
We do see, interestingly, that within Amazon, consumers are increasingly searching toys by category, not by brand. So, they are more likely to search for "board games" than to search for a brand like Monopoly, for example.
ECRM: So, there's a little bit of product discovery happening.
Clark: Exactly. Whereas it used to be Amazon really was much more, "I want this" and less discovery.
ECRM: And now there's another thing happening that could possibly impact the toy category again.
Clark: Yes! It will be changing again, because Toys "R" Us is back. Kind of. There's a group of some investors and former employees that have bought some of the Toys "R" Us assets and trademarks and will launch a retail chain called Tru Kids. The plans are still a little bit amorphous, but they're hoping to up and running for this holiday season. So, I wouldn't count it out. They also are going to be focusing on a much smarter retail footprint idea. Much smaller stores -- instead of 40,000 feet, they will be 10,000 feet. And they want to create experiences.
And that's what you must have. And that's what Amazon doesn't have online. And that's how you can beat Amazon, and frankly, you can beat Walmart and Target that way too. As we've seen in beauty, you have the chance to go to Ulta or Sephora and have fun with it, so we really think there's that opportunity for Tru Kids to have something fun and experiential. Could it be a store that you could have birthday parties for your child? Do something fun. That's going to draw people in a way that Amazon can't do.
Download the presentation slides here: Where is the Toys R Us Shopper.pdf
---
ECRM's Joseph Tarnowski interviews Stella Rising's Marlea Clark
---