Foodservice Buyers & Suppliers Tackle Key Industry Issues
5/20/2019
---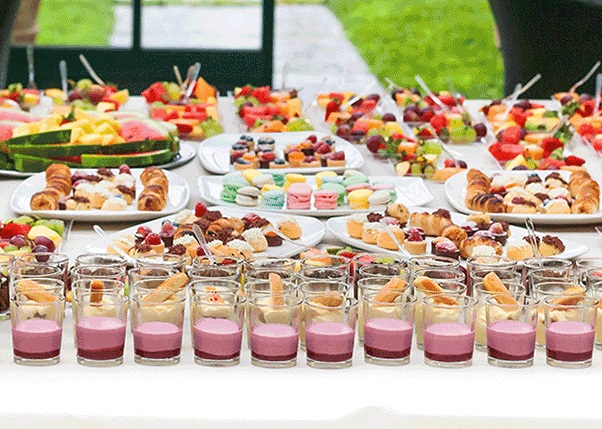 ECRM's Foodservice Week last month, which included our Campus Foodservice, Commercial Foodservice and Foodservice at Retail sessions, featured several roundtable programs during which attendees were able to share their thoughts and experiences related to trends, challenges and opportunities in the industry.
The Campus Foodservice and Foodservice at Retail each featured one of ECRM's Thought Interaction Pod programs, in which several concurrent roundtable discussion topics were available for both buyer and seller attendees and participants sat for two 30-minute rounds of discussions at tables of their choice. The Commercial Foodservice session featured a buyer roundtable that was moderated by Donald Burns, a restaurant expert and author of the book, Your Restaurant Sucks, and the Campus Foodservice session also featured a buyers-only roundtable.
Indeed, there was a lot of great ideas touched on during the week, and below are video interviews with some of the roundtable moderators in which they touch on some key takeaways from the discussions they hosted.
---
---
Logistics Challenges at University Foodservice: Kit Smith, Univ. of Ill. at Urbana Champaign
University of Illinois at Urbana-Champaign's Wayon "Kit" Smith III discusses the logistics challenges university foodservice operators face when bringing in new products, which was the topic of his roundtable during the Thought Interaction Pods held at ECRM's University & Campus Foodservice session.
Kit Smith, Univ. of Ill. at Urbana Champaign
---
Ethnic, Allergen-Free & Sustainable Foodservice: Stephanie Nicklos, ECRM
ECRM's Joseph Tarnowski and Stephanie Nicklos discuss some key takeaways from the College & University Foodservice roundtable that included more than 20 buyer participants. Among the topics were: Ethnic foods and authenticity, promoting allergen-free foods and sustainability (and straws!)
---
Campus Foodservice Innovation: George Kuzma, Gourmet Dining LLC
Campus foodservice innovation was the topic of the Thought Interaction Pod roundtable discussion moderated by Gourmet Dining LLC's George Kuzma. In this video, George discusses some key takeaways from his roundtable with ECRM's Joseph Tarnowski. Among them:
Partnering with local restaurants and chefs to help break up the monotony.

The increasingly large role mobile ordering is playing in campus foodservice.
George Kuzma, Gourmet Dining LLC
---
---
Delivery, Loyalty Programs & Plant-Based Foods: Donald Burns, The Restaurant Coach
ECRM's Stephanie Nicklos and author/restaurant expert Donald Burns discuss highlights of the Culinary Roundtable Donald moderated, including the topics of home delivery, loyalty programs and plant-based food.

Donald Burns, Restaurant Expert & Author
---
---
The Impact of Outside Influences: Stephanie Nicklos, ECRM
ECRM's Stephanie Nicklos provides some key takeaways from the Thought Interaction Pod roundtable she moderated at ECRM's Foodservice at Retail session. The focus on her table was the impact of outside influences on retail foodservice, and among the topics discussed were increased competition from within their individual channels as well as outside channels, the challenge of finding committed employees, and for convenience stores — driving more traffic from the pumps to the foodservice operations.
---
Leveraging Foodservice to Drive In-Store Traffic: David Arens, The Exchange
David Arens, Divisional Merchandise Manager for The Exchange moderated a Thought Interaction Pod roundtable on leveraging foodservice to drive traffic to the store at ECRM's Foodservice sessions this week — here are some key takeaways from the discussion which included:
Creating unique in-store events around specific meal items (and capture them on social media)

Enhancing your communication in-store and out around your foodservice offerings

Wings! Wings are still a popular foodservice item — come up with some unique offerings around this ubiquitous favorite to keep'em coming back!
David Arens, The Exchange
---