Creative Nature, Merzdorf Win Euro Food Buyers Choice Awards
4/16/2019
---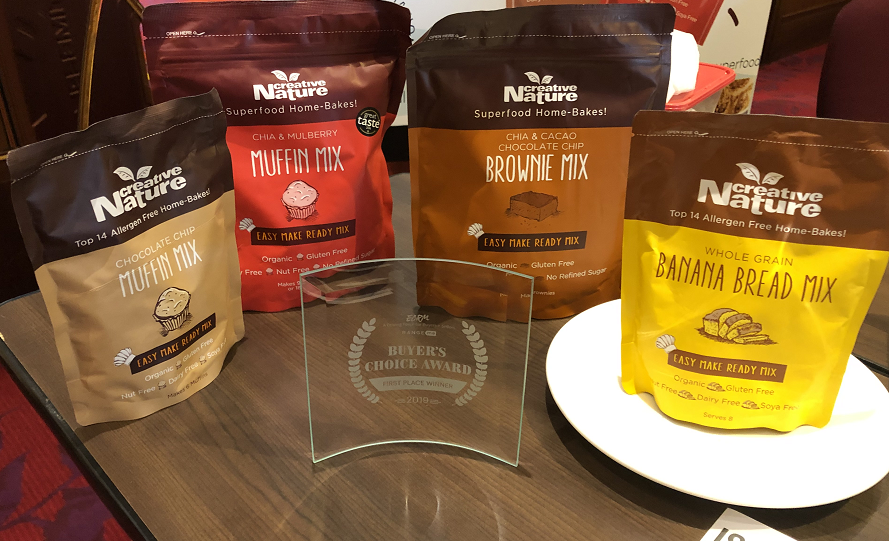 Creative Nature Superfoods won the Buyers Choice award for its allergen-free, vegan baking mix at ECRM's Euro Food session last month in Poland. Merzdorf was a finalist with its Extreme Sport smoked chicken breast slices.
Both were selected among dozens of entries, which were displayed in the hospitality area during EPPS meetings, and buyers cast their votes based on product innovation and packaging.
"We're seeing a great increase in demand for healthier, cleaner and vegan foods among European consumers," said Craig Chmielowicz, SVP of International for ECRM. "Suppliers like Creative Nature and Merzdorf have stepped up to meet this demand with innovative new foods that will no doubt stand out on the shelf."
ECRM VP of Content Joseph Tarnowski interviewed each of the Buyers Choice winners about their companies, winning products, and their experience with ECRM's category-based programs. Here are the videos:
---
1st Place: Creative Nature (Julianne Ponan, CEO)
Creative Nutrition CEO Julianne Ponan started making her own healthy snacks out of frustration at the lack of nut-free products in the market that weren't packed with additives. She suffers from anaphylaxis to all nuts, some seeds and certain additives, so finding a healthy snack that didn't cause her to stop breathing was a challenge.
So she decided to create her own, using superfood ingredients to improve the nutrient value. Her Buyers Choice award-winning baking mixes are free from the top 14 allergens, are organic and include a vegan recipe on-pack. They are easy to bake by just adding a banana and a dairy-free spread.
---
2nd Place: Merzdorf (Andrzej Grudniok, Managing Director)
Merzdorf produces a line of healthy chicken snacks using a cold smoking process that brings out the taste and smell of chicken, and increases edibility without the need for artificial additives. After thorough cleaning and seasoning, the carefully selected chicken fillet undergoes a maturation process under strictly controlled temperature and humidity conditions that lasts about 5 weeks.
During this process, the meat structure changes and the water is reduced, resulting in a 50 percent weight loss. (There is 200 grams of chicken fillet used to make 100 grams of the final product). The chicken is then manually cleaned so that it does not contain any film, fat, cartilage, and other non-meaty substaces.
---