The E-Com Mom: How Moms Shop Digital, Mobile & Amazon
10/13/2018
---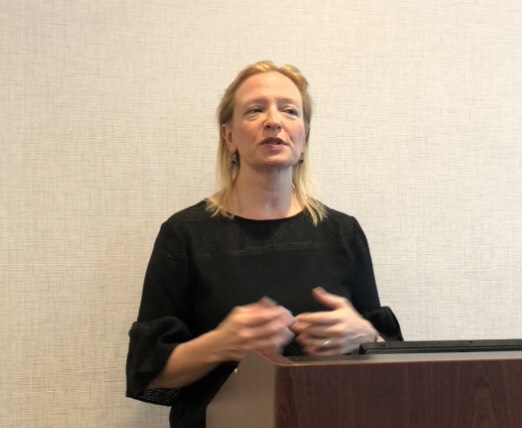 Today's digital landscape – and Amazon in particular – has dramatically changed the way moms shop for their kids, and suppliers and retailers of baby and infant products must adapt accordingly, according to Marlea Clark, EVP of Marketing & Insights for Women's Marketing, whose presentation during ECRM's Baby & Infant EPPS addressed the modern mom's use of digital platforms throughout the path to purchase based on a proprietary survey of more than 1,700 women from across the United States on its social insights community, Glimmer.
"The important item to note about the mom consumer is that she is a woman first," said Clark. "Today's mom is not who she used to be. Back in 1974, it was difficult for a married woman to get a credit card in her own name. Fast forward to today, and women account for $7 trillion in spending and influence, accounting for 85 percent of all consumer purchases. Throughout the next decade, women are expected to control two-thirds of the country's overall consumer wealth."
Millennial moms represent 82 percent of all births, and 31 percent of all discretionary spending is represented by Gen X moms, according to Clark. Sixty-two percent of moms work outside the home, so time and convenience are top priorities with them. Additionally, there are 11.5 million single moms, which also place a high regard on convenience when it comes to shopping.
Product Discovery
Digital has completely changed the way women discover new products. While a new mom with her first child is likely to learn about baby products primarily from family members, more than half (58 percent) will find new brands through social media – particularly since this is her chief means of staying in touch with friends. By the time a woman has a second child, however, social media becomes her primary source of new product information. Additionally, 28 percent of women noted that they discover new brands through Amazon. So it's no surprise that brand websites have seen a decrease in online purchases, however mothers still value their websites as a place to learn more details about a product.
As noted earlier, convenience is the lead factor in this shift to online. Since 2016, there has been a 26 percent increase in curbside pickup and subscription services – a rise that indicates moms are willing to pay more, and change their shopping habits, for the sake of convenience. Other reasons mothers are turning to online shopping is for the sheer amount and variety of products at their fingertips, the ability to easily compare prices, one-stop shopping capabilities, a wealth of product reviews, and speed of delivery.
"They can find new brands on their own and read reviews that give them confidence in making a new purchase," says Clark. "In addition, the ability to search by product type or feature has significantly decreased the importance mothers are placing on brand name products, a fact that provides emerging brands an opportunity to reach this market."
Indeed, this is positive news for those emerging brands that attend ECRM sessions and are listed on RangeMe.
The No. 1 thing mothers cannot live without, according to the Women's Marketing research, are their mobile phones. Ninety percent of mothers are smartphone users and this is the main device with which they access social media. One key benefit to shopping online: to avoid having to bring their children into a brick-and-mortar store, as was cited by 45 percent of those moms surveyed.
More than 97 percent of women reported that they shop on Amazon, and 61 percent of those Amazon shoppers are also Prime members. These mothers are also frequent shoppers, using the platform multiple times a month, and this has no doubt contributed to making Amazon one of the primary product search tools for consumers.
Winning on Amazon
One of the areas of focus of Women's Marketing's consulting practice is working with brands to drive success on Amazon, and based on the company's experience in this area, a key thing brands must keep in mind is the fact that Amazon's primary focus is to serve consumers -- not brands. So anything a brand can do to help Amazon to better serve its shoppers is in effect going to help the brand itself.
"You have to have your product available, at a low price, and you need to be discoverable by including the key search terms in your brand page title and description," says Clark. "Some challenger brands do a great job of this, and are among the best ranked pages in their category, while some of the larger brands miss out on these opportunities."
What Moms Buy Online
Clothing, shoes and jewelry (88%)

Beauty, cosmetics & skincare (85%)

Electronics (68%)

Personal Care (59%)

Toys (59%)

Anything hard to find (57%)

Baby (34%)

Food & Grocery (28%)
(Source: Women's Marketing)
Factors that influence where a brand shows up in search include text match relevancy, product availability (its in-stock history), price, and sales velocity. Other factors include reviews, shipping speed, promotions, page content, and advertising – brands that pay do get preference in search on Amazon, according to Clark.
Reviews are a critical component in the online shopping experience, especially for women, and nearly half of the mothers surveyed reported that they will go to Amazon to read product reviews after an influencer has recommended a product. Almost half (49 percent) of consumers list reviews a primary source that influences a purchase. Additionally, 91 percent of consumers would not consider purchasing a product on Amazon with less than three stars.

ECRM Interview with Women's Marketing EVP Marlea Clark
However, brands need to be vigilant on the platform to ensure they are not undercut by other distributors of their products. "You must strictly enforce your minimum advertised price (MAP) to keep your product at the top of the by box, or Amazon will put a lower-priced option from a different seller at the top," says Clark. "Also, keep your sales channels clean. Brand distributors can sell your product to another retailer for a cheaper price; controlling sales channels can eliminate this issue."
So, when it comes to baby and infant brands, be sure to make sure your digital game is in order. Ensure that you can easily be found, that your products are always in-stock, and easy to review and purchase via computer, tablet or phone. And keep an eye out for new and emerging digital ecommerce platforms, such as the Apple Watch and Alexa, as the shift to digital for moms is only going to increase.