Supplier Success: SOM Sleep's First-Time ECRM/RangeMe Experience
9/19/2018
---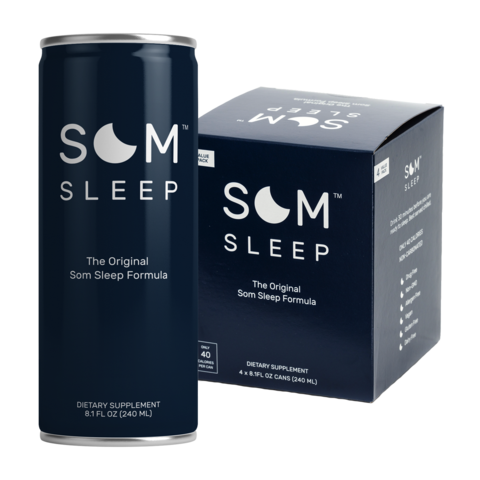 There is no question about the importance sleep plays in helping us perform at our best, and long gone are the days in which pulling all-nighters was a badge of honor among employees and entrepreneurs. Now it's quite the opposite; entrepreneurs like Jeff Bezos and Ariana Huffington now boast about how much sleep they DO get, as a good night's rest and optimal performance go hand-in-hand (check our ECRM VP of Content Joseph Tarnowski's recent video on the topic).
So, it's no surprise that consumers are seeking products to help them safely get some shuteye so they can boost their productivity while they are awake, and companies like SOM Sleep have developed products in response to this demand.
"We created SOM Sleep for people who were having sleep issues," says Co-Founder & CEO John Shegerian. "Between the energy revolution with Starbucks and Red Bull, and the technological revolution where the blue rays of digital technologies messing with our pineal glands and throwing off our circadian rhythm, we have the biggest sleep issues right now in the US and around the world. It's not just anecdotal evidence, it's science. To be your best, you need your rest."
And with Shegerian facing sleep issues himself, he sought to create a solution in the form of a non-GMO, vegan, drug-free, gluten-free sleep drink. The Som Sleep Formula took over a year to develop the perfect blend of taste and support for sleep. The formula, called the Som Stack, includes active ingredients that help promote relaxation and provide the body with nutritional support for healthy sleep patterns. These include Magnesium, Vitamin B6, L-Theanine, Gaba and Melatonin. The original version has 8 grams of sugar and 40 calories, and the sugar-free version which has 10 calories. "We have something for everyone, because our mission is to democratize sleep," says Shegerian.
First-time ECRM Experience
The Beverage EPPS was Shegerian's first time experiencing an ECRM session; since launching in January of this year, he's been trying to attend as many conferences as possible to test them out, and this was one of them. "We've been overwhelmingly thrilled," he says. "The retailers were the best quality, where we want to be. We want to be where America is, and your retailers represent everything from hotel gift shops to the biggest brands across America. It's wonderful to talk about direct-to-consumer online, and it's a great delivery method and it's going to continue to grow. But truthfully, America still lives in bricks and mortar and you had such great opportunities for us, both online and brick and mortar."
Being an "old school businessman from New York City," what Shegerian particularly liked were the private pre-scheduled meetings with buyers in the company's own suite. "What's wonderful is that you get a great experience when the buyers and the decision-makers are able to hold the can, touch it, feel it, understand what went into our packaging, our labeling, and also the ingredients and efficacy."
He added: "For example, a lot of the buyers told us today that they loved the branding because you have only about three seconds or less when people are walking down the aisle to catch the shopper, and the they understand our function very well because it says it really clearly on the label. Most functional brands don't have this kind of clarity. "And they get to look at you in the eye, and to me, you don't close deals over text or email," he added. "You close nose to nose. And that's what happened today."
ECRM's Joseph Tarnowski with SOM Sleep Co-Founder & CEO John Shegerian at the ECRM Beverage EPPS
RangeMe's 24/7 Digital Exposure
That's not to say he's not a believer in the power of digital. While at the session, Shegerian signed up for a RangeMe Premium membership and is on his way to becoming Verified. "That shows the 1-2 punch of what you offer," he says. "The beauty and the ability of the nose-to-nose meeting with the decision makers, and to have access online and to have your retail brands on the platform is something that no one does, and the pricing is unbelievably fair."
The SOM Sleep brand is already nationally distributed in 800 GNC stores as well as several regional retailers. And now with his ECRM Beverage session followups and RangeMe exposure, Shegerian expects more to come soon. "We had so many opportunities to really make a big impression, and we already signed up for next year, that's how thrilled we were," he says.