Santevia Water Systems Inc, Lavaca LLC (CasusGrill) win ECRM Buyers Choice Awards
8/24/2018
---
Santevia Water Systems Inc won the ECRM Buyers Choice Award for its Santevia Alkaline Pitcher – MINA Slim Series during ECRM's recent Housewares, Household & General Merchandise EPPS. Lavaca LLC was a finalist for its CasusGrill.
The two companies were selected from dozens of entries in the award program, samples of which were displayed in the ECRM hospitality area during the EPPS meetings. Buyers cast their votes based on product innovation and packaging.
Santevia Water Systems began as a solution to its co-founder, David Anderson's health problem. David suffered from chronic acid reflux and with the help of co-founder Yvonne Anderson, learned about the role of pH in the body and the need for an acid/alkaline balance solution. Thus was born: Santevia. More than a water filter, Santevia adjusts water's pH to mildly alkaline by reintroducing minerals that promote energy and immunity, helping the body maintain its active equilibrium. Santevia values giving back as much as it does wellness and established Santevia Gives Back, which supports clean drinking water and children's education worldwide.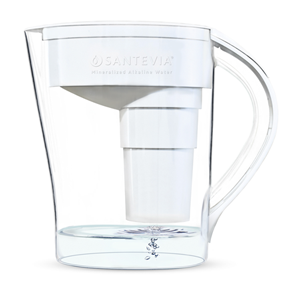 The Santevia Alkaline Pitcher – MINA Slim Series is game changing for a number of reasons. Born out of consumer demand for healthier alkaline water, this is the first pitcher available to the American market that produces alkaline and mineralized water from regular tap water. The MINA Slim Series is the first ever water pitcher to be made out of American Tritan plastic. This is 100% BPA and BPS-free and durable enough to be dropped off the top of a building! The slim and attractive design is fully dishwasher safe as well as rigorously tested to reduce contaminants like chlorine and lead by up to 99%.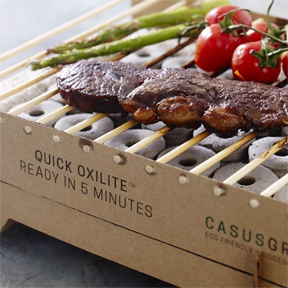 Lavaca LLC unveiled its CasusGrill to buyers at the EPPS. The CasusGrill is an instant, disposable, biodegradable single-use grill. The CasusGrill is made with 100% sustainable all-natural elements like bamboo, lava stone and cardboard to construct a metal and chemicals free, truly effective single-use grill. Designed as a true replacement of aluminum disposable grills, CasusGrill can completely disintegrate on its own or in the camping fire post-use. The CasusGrill utilizes a uniquely designed lava stone thermal-insulation tub to maintain its high temperature, direct all heat upwards towards the food, while keeping the outside of the grill cooled and protected. Further, it is equipped with a lightweight bamboo grill rack, and a cardboard body, ensuring the entire portable instant one-time-use grill can biodegrade quickly. CasusGrill is light weight and uses bamboo charcoal that produces up to 50% less CO2 emissions.
The CasusGrill uses Oxylite™ bamboo charcoal rings that are easy to light without the need for any lighter fluids. The rings reach grilling temperature in 5 minutes then stay hot for more than 60 minutes. Using Oxylite™ quick-light bamboo charcoal ring-shaped briquettes, the grill boasts an even and high grilling temperature, perfect for cooking everything from meats and kabobs, to fruits and vegetables. Once done, the grill can be disposed of right in the fire, so no extra trash is left behind. Pure in form and simple to use, the CasusGrill is an every-occasion sustainable disposable grill. To see more on this product, please click here.
Santevia Water Systems and Lavaca LLC are two examples of suppliers developing innovative products that help retailers build unique assortments that differentiate their stores in the market. Congratulations to these winners of the Buyers Choice Awards!