ECRM & RangeMe Supplier Success: Natural Beauty Supplier Active Wow
8/3/2018
---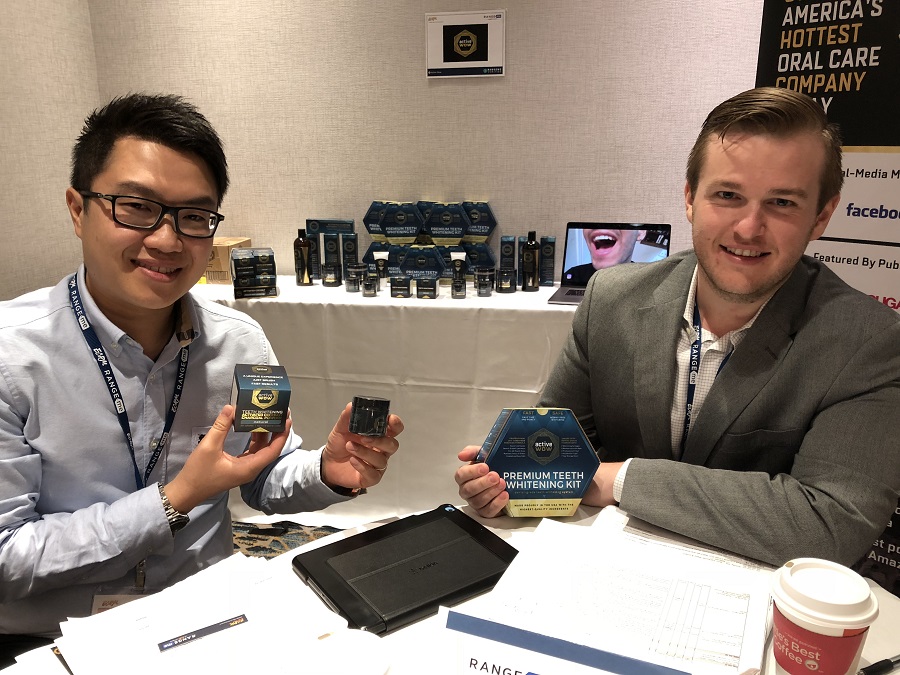 Having gained popularity through social media and on Amazon, natural wellness and beauty brand Active Wow rocketed to online success with its star product, a charcoal teeth whitener that has received rave reviews from happy customers. But when co-founders Cal Chan and William Mcmacken were ready to take the brand to the next level and break into the physical retail space, they weren't sure where to start.
When more traditional routes weren't panning out, Active Wow turned to RangeMe to gain more visibility and make connections with buyers, scoring a deal with Target. With products now on the retailer's shelves, Active Wow has expanded its efforts to connect with retailers in-person via the RangeMe Discovery Hub at ECRM's Personal Care, Grooming, Oral & Travel/Trial EPPS.
Putting the "wow" in Active Wow
When it first launched, Active Wow prioritized its website and online presence — and its efforts certainly paid off. Their charcoal whitening product became a bestseller on Amazon and a social media favorite due to the selfie-quality results of the teeth whitening experience.
"We focus on experience-based products that are remarkably interesting. We're not making just a toothpaste, or just a whitening product," Chan explains of Active Wow's product offering. "That's why the brand is called Active Wow. We want people to have a 'wow' moment after they use our product."
Scrolling through Instagram and perusing Amazon reviews, it's clear that customers are indeed wowed by the company's offering. With its popular products and instant brand recognition, Active Wow was poised for growth.
From digital to physical
With online success under their belt, Chan and Mcmacken were ready to break into physical retail. "We noticed there was this huge market opportunity for retail, and we weren't really exploring that very much," Chan explains. "We spent a solid six months trying to figure out how to get into brick-and-mortar retail stores."
Mcmacken had a contact at one retailer and was able to get Active Wow on those shelves, but he and Chan were frustrated that they couldn't get into additional retailers. "We realized there were hundreds of other potential retailers that could be carrying our product, but we but we had no idea how to get in touch with them to share our story," Chan says.
Without existing retailer connections, Chan had no idea how to expand Active Wow's in-store placements.
Hitting a bullseye with Target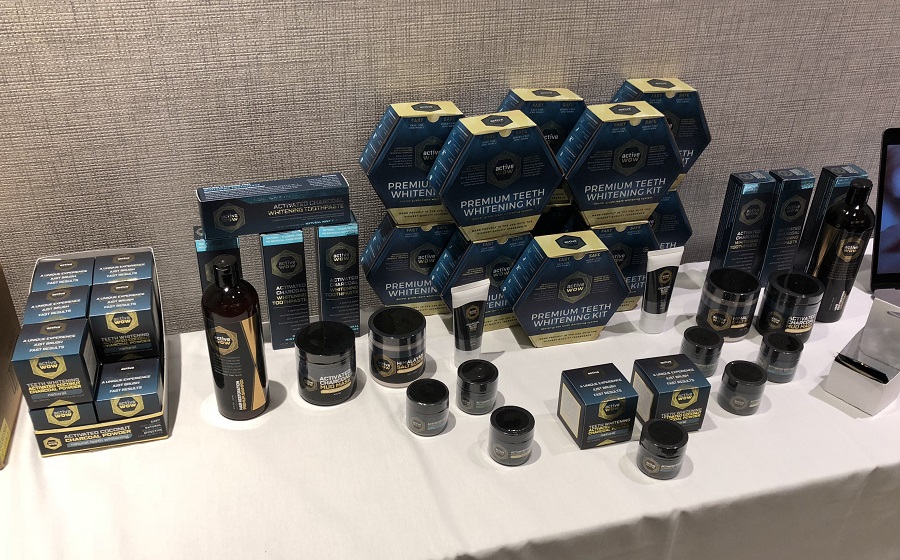 Determined to break into the retail space, Active Wow began exploring other avenues to connect with major buyers, which is what led them to RangeMe. "We hadn't really had luck with brokers so far, so we decided to sign up for RangeMe," Chan explains. Fortunately, this turned out to be just what they needed to jumpstart their in-store placements. Active Wow started getting interest right away, including from a buyer at Target who reached out to them on the platform. Chan describes it as "one of the most exciting moments of using RangeMe."
"Because of connecting with Target on RangeMe, we were able to schedule a 30-minute in-person meeting," Chan explains of Active Wow's experience with Target. "After that, they committed to carrying our product. Without RangeMe, I don't really know how I would have gotten in contact with that buyer."
Next Step: The RangeMe Discovery Hub
Following their success with Target, Chan and Mcmacken sought to further expand their connections – this time with in-person meetings at the RangeMe Discovery Hub at ECRM's Personal Care, Grooming, Oral & Travel/Trial EPPS.
The Discovery Hub is a special program at select ECRM category-based sessions specifically for its RangeMe suppliers who have never attended before. Participants each get their own meeting space where they can display their products, and pre-scheduled face-to-face meetings with dozens of relevant buyers from mass retail. "It's a great opportunity for a small brand like us to get face-to-face with suppliers and distributors," says Mcmacken.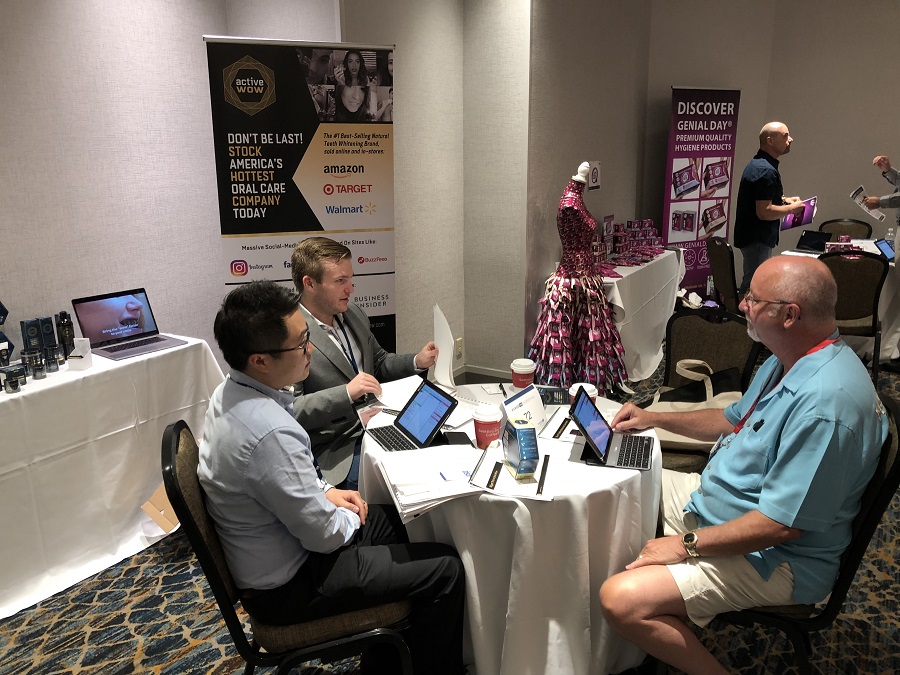 "It's a great compliment to RangeMe," adds Chan. "RangeMe is where buyers go on a 24/7 basis, and can browse the products at their leisure, and they contact you when they are ready. At the sessions, the buyers are brought to you one after another in a period of two days. Even if we just get one of these accounts it will all be worth it."
In addition to having the opportunity to pitch their products in-person, the Active Wow team was also able to leverage the Discovery Hub meetings to get instant feedback from buyers on a new item they have in development – a travel-sized teeth-whitening product. This is something that many suppliers do at ECRM's sessions, as it can provide insights directly from buyers that they can take back and immediately incorporate into their product development efforts.
Networking & Learning
Chan and mcmacken also took full advantage of the session's networking opportunities during breakfasts, lunches, cocktails and dinners – including one offsite dinner at Fogo de Chao. "I got some great insights into what buyers in general are looking for, what they are doing, and how they are doing research," says Mcmacken.
Chan sees RangeMe and ECRM as an innovative tools for both suppliers and buyers, and he is excited to see how this synergy can boost Active Wow's retail success in the future. "Retailers these days are trying really hard to compete with Amazon," Chan says. On the flipside, he explains, "online-only brands like Active Wow are having the opposite problem — if we do well online, we want to figure out how to get into retail."
To Chan, RangeMe and ECRM provide the ideal solution to both of these dilemmas: RangeMe and ECRM help buyers discover hot products that aren't on their shelves yet, while helping suppliers make valuable connections to get their products in-store. Chan is confident that with the help of both platforms, Active Wow will continue wowing retailers and translating their online success to the physical retail space.
---
ECRM's Joe Tarnowski interviews Active Wow Co-Founders Will Mcmacken and Cal Chan
at ECRM's Personal Care, Grooming, Oral & Travel/Trial EPPS
---