Podcast: What to do When Everything Goes Wrong
5/16/2018
---
We all go through times when everything is going wrong, everything is happening, and we just don't know what to do. Sometimes people get busy doing the wrong things. When things are going wrong, doing more of them is not going to help the situation.
In this latest On the Shelf Flash Topic podcast -- of which I'm a panelist along with industry and product experts Bill Carmody, Tracy Hazzard and Salah Khalaf -- we discuss some options for what to do when things go wrong or when you experience difficulty in your business. They provide some key information that you should take advantage of, so that you can minimize when things don't go as planned.
Among some of the topics we discuss are:
How to step back and evaluate the situation vs. continuing on the wrong path
Developing a "culture of adaptability"
Seeking outside help
Developing contingency plans
When it's time to cut the cord start over
Regular re-invention of your product or business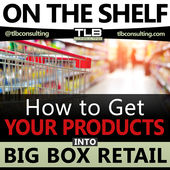 Click below to listen to the podcast
Below are the bios of my fellow panelists from this episode:
Tracey Hazzard:
Tracy Hazzard, Inc. Columnist and Product Strategist for Hazz Design has co-designed and developed 250+ consumer products generating more than $1 Billion for her e-commerce and original brand-building clients. She is the co-host of WTFFF?! 3D Printing podcast and the members-only Product Launch Hazzards podcast.
Bill Carmody:
Bill Carmody is the CEO of Trepoint. He was a founding partner and CMO of Seismicom, a leading brand promotions agency. He is the acclaimed author of the book "Online Promotions," and has contributed to various marketing publications. Bill has presented at dozens of industry conferences and tradeshows across the globe. Bill is passionate about integrating wireless, online, sponsorship, events, and traditional marketing disciplines.
Salah Khalaf:
Corporate and retail growth strategist and business development consultant Salah Khalaf has over 25 years of merchandising and operations experience in the retail and warehouse club industry. He most recently led the Supplier Diversity Department at Sam's Club, where his business unit created solutions to meet the needs of the millions of small business owners that Sam's Club serves. Additionally, Salah also served on the boards of several national minority organizations representing Walmart Inc.
Podcast Moderator Timothy Bush
Timothy Bush is a consultant whose company, TLB Consulting, helps suppliers in their efforts to get on the shelves of big box retailers. To contact Tim, or to submit topics for future podcast discussions, please email him at tim@tlbconsulting.com.