European Retailers and Distributors Find Food Innovation in Berlin
5/8/2018
---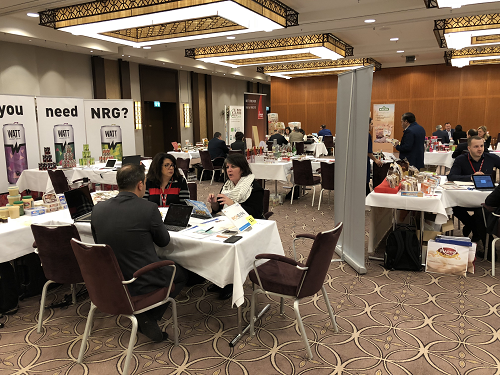 European retailers and distributors met with suppliers of a variety of center store categories from around the world at ECRM's recent European Snack, Dry Food & Confectionery EPPS, held last month in Berlin, Germany. The session, which doubled in size since last year, featured buyers including Censosud, Coop Italia, Jamin B.V., Makro Cash & Carry, Metro, and The SPAR Group looking to discover new products to differentiate their assortments.
For those of your who may not be familiar with ECRM, we help retail buyers discover new and innovative products that will help drive success in their categories by connecting them with relevant suppliers in private, pre-scheduled face-to-face meetings. We work closely with buyers in advance of these sessions to ensure that the suppliers with which they meet are aligned with their category focus and goals.
For suppliers, ECRM's sessions deliver the maximum return on their money, time and efforts by connecting them in-person with dozens of relevant buyers in the space of a couple of days, along with the tools to prepare for and follow up from these meetings.
These sessions take place in a hotel setting, in which suppliers are set up with meeting spaces in a suite or ballroom, and the buyers travel from supplier to supplier on a fixed schedule. ECRM staff are on hand to manage the meeting flow and ensure that all attendees make every scheduled meeting, as well as to provide any additional assistance that may be needed. Plus, each attendee has access to iPads with ECRM's Connect App, which enables them to take notes, capture images, and share this information with colleagues for follow up.
"This session will have better outcomes [for us] than a traditional trade show or conference," said Judit Tasnadi-Laslo, Export Director for Aquarius-Aqua, a Hungarian beverage supplier that attended the session. "We were pleased by the professional approach of the session and the support of the company in our preparation -- enabling us to prepare everything in advance."
The session also featured a Brazilian Pavilion, in which supplier members of Brazilian trade promotion organization Apex-Brasil had their own private space for meeting with buyers. "Our purpose in participating in this event is to meet potential partners from Europe, as we want to expand our range and increase our sales in the European market," said Mina Prodanska, International Sales Manager - Europe, for Grupo Arcor, a large candy and snack manufacturer based in Brasil and one of the pavilion's suppliers. "We had interesting meetings with buyers from retailers in the Netherlands, Germany and Austria, which are demanding markets for us. We will definitely return next year."
Please see the videos to the right and photo gallery below to see the session experience in action!
Click the link below the gallery for more information, or to register for next year's session!
Product roundup from the session:
The Apex-Brasil Pavilion
Supplier Success: Aquarius-Aqua
Supplier Success: Grupo Arcor